IPL AUCTION 2017 (DATE AND PLACE)
Indian Premier League 2017 season will certainly be the 10th edition of the highly lucrative and popular India Twenty20 domestic contest which will be taking place after the T20 World Cup in India. Probable dates for IPL are the first week of April to mid-May but before that all-important IPL Auction happens. People love to watch IPL Auction as their favourite player goes under the hammer. All eyes are on which player will move to which team. This year's IPL Auction is expected to take place in the first week of February. Before that teams are expected to announce the retained list. According to the trend goes, IPL Auction takes place for two days. IPL10 Auction is expected to start at 9:30 AM in the morning and will continue till 6:00 PM in the evening. IPL 2017 Auction Location is not confirmed yet. But Bangalore and Mumbai are the leading cities that are expected to host IPL 10 Auctions.
IPL 2017 Auction Date – 4th February 2017(No official announcement yet)
IPL 2017 Auction Time – 9:00 AM to 6:00 PM
IPL 2017 Venue – MUMBAI      
RELEASED AND RETAINED PLAYERS LIST AHEAD OF IPL AUCTION 2017
The Board of Control for Cricket (BCCI) in India released a list of 140 cricketers, consisting of 44 overseas players, who have been retained by their franchises for the upcoming season of the India Premier League(IPL).Dale Steyn (GL), Kevin Pietersen (RPS), Mitchell Johnson (KXIP), Eoin Morgan (SRH), Trent Boult (SRH), Martin Guptill (MI), Corey Anderson (MI), Imran Tahir (DD) and Morne Morkel (KKR) were the big names in 63-member list of cricketers released by the franchises.
RISING PUNE SUPERGIANTS :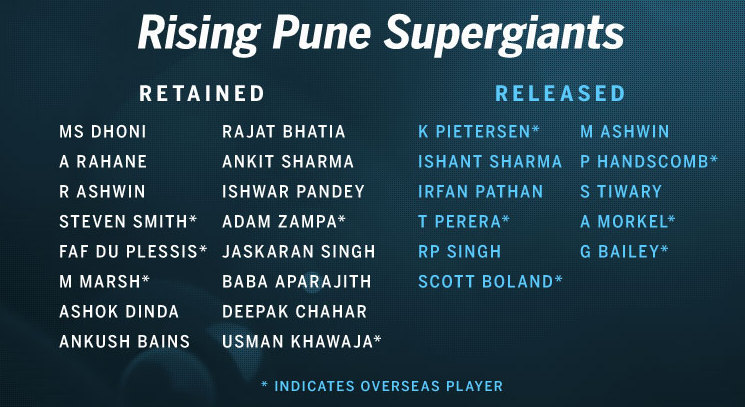 Total Players released 11 (6 overseas)
Total Players retained 16 (5 overseas)
Amount spent INR 469,000,000/-Amount remaining INR 191,000,000/-
GUJARAT LIONS :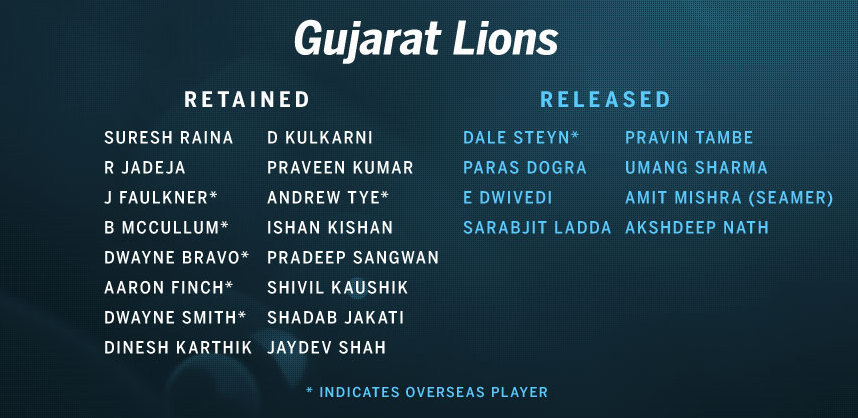 Players released 8 (1 overseas)
Players retained 16 (6 overseas)
Amount spent INR 516,500, 000/-Amount remaining INR 143,500,000/-
KINGS XI PUNJAB :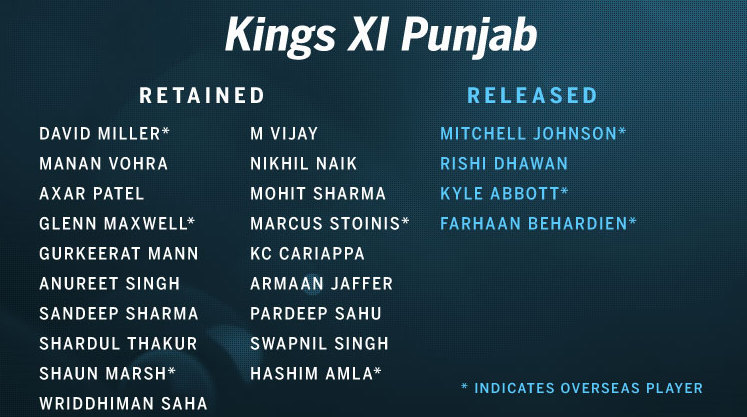 Players released 4 (3 overseas)
Players retained 19 (5 overseas)
Amount spent INR 426,500,000/-Amount remaining INR 233,500,000/-
KOLKATA KNIGHT RIDERS :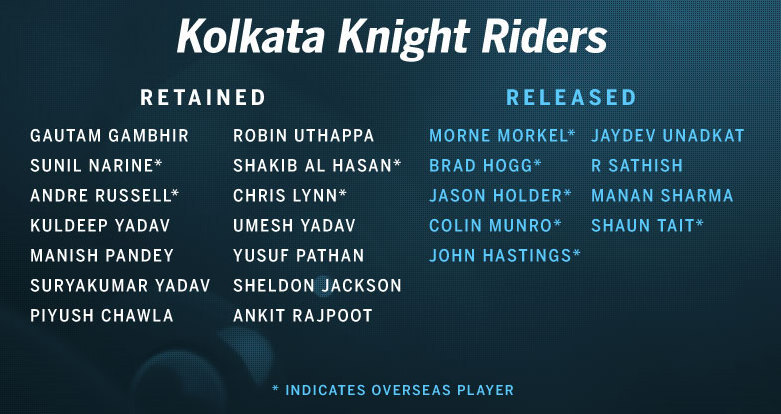 Players released 9 (6 overseas)
Players retained 14 (4 overseas)
Amount spent INR 462,500,000/-Amount remaining INR 197,500,000/-
MUMBAI INDIANS :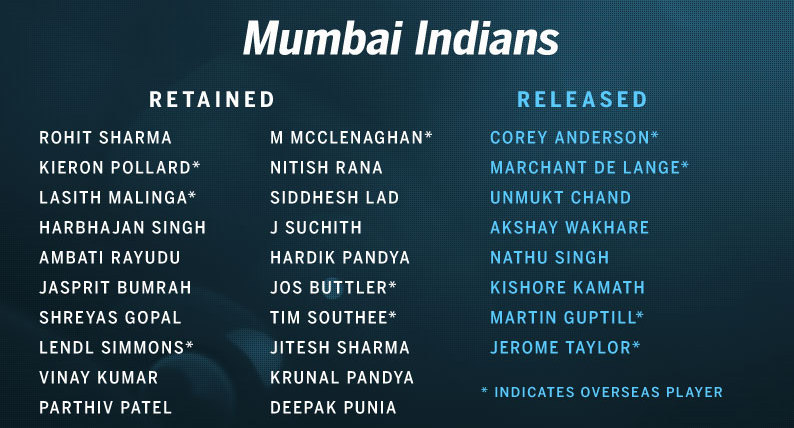 Players released 8 (4 overseas)
Players retained 20 (6 overseas)
Amount spent INR 544,450,000/-Amount remaining INR 115,550,000/-
DELHI DAREDEVILS :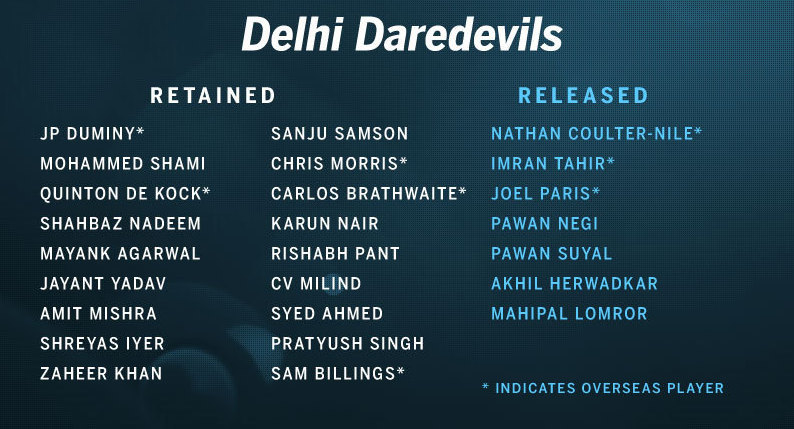 Players released 7 (3 overseas)
Players retained 18 (5 overseas)
Amount spent INR 445,000,000/-Amount remaining INR 215,000,000/-
ROYAL CHALLENGERS BANGALORE :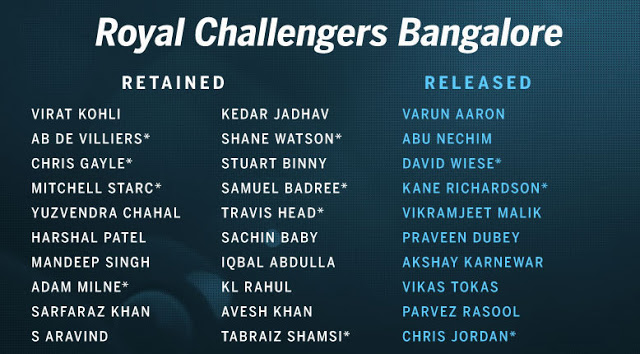 Players released 10 (3 overseas)
Players retained 20 (8 overseas)
Amount spent INR 531,750,000/-Amount remaining INR 128,250,000/-
SUNRISERS HYDERABAD :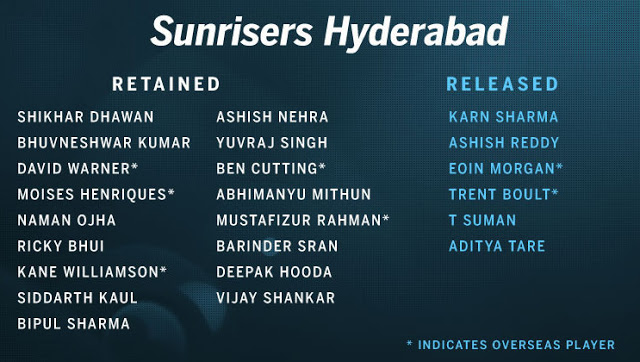 Players released (2 overseas)
Players retained 17 (5 overseas)
Amount spent INR 451,000,000/-Amount remaining INR 209,000,000/-
Team
Amount Spent
(Rs. In Crs)
Balance Amount
(Rs. In Crs)
Total Players
in the Team
Foreign
Players
DELHI DAREDEVILS
44.5
21.5
18
5
KINGS XI
PUNJAB
42.65
23.35
19
5
KOLKATA NIGHT
RIDERS
46.25
19.75
14
4
MUMBAI
INDIANS
54.445
11.555
20
6
ROYAL
CHALLENGERS
BANGLORE
53.175
12.825
20
8
SUN RISERS
HYDERABAD
45.1
20.9
17
5
RISING PUNE
SUPERGIANTS
46.9
19.1
16
5
GUJARAT
LIONS
51.65
14.35
16
6